Précédent : 2017-09-27 / 420-R43-MA / Matériel et système d'exploitation réseau
Chipset (jeu de puces) = un jeu de composants électroniques inclus dans un circuit intégré préprogrammé permettant de gérer les flux de données numériques entre le ou les processeur(s), la mémoire et les périphériques [Wikipédia].
Chipset = d'habitude pont nord et pont sud. Certains chipsets intègrent parfois une puce graphique et une puce audio.
Pont nord
Edit
Pont nord (Northbridge) = une des deux puces du jeu de circuits (chipset) d'une carte mère, directement relié au microprocesseur et gérant les périphériques "rapides", dont la mémoire [Wikipédia].
Il permet de conditionner les caractéristiques de la mémoire vive (type, vitesse et quantité) et du ou des processeurs utilisés ; il permet aussi de gérer certains bus rapides (PCI-Express ou PCI-X). Le pont nord communique avec la CPU via le bus FSB).
FSB (Front Side Bus) = le bus informatique qui relie le processeur au « Northbridge » et qui gère les échanges avec les périphériques proches du CPU et notamment avec la mémoire vive [Wikipédia].
Pont sud
Edit
Pont sud (Southbridge) = une des deux puces du chipset d'une carte mère ; il définit et commande le fonctionnement de tous les bus et dispositifs plus lents que ceux pris en charge par le northbridge [Wikipédia].
Super I/O = a class of I/O controller integrated circuits that began to be used on personal computer motherboards in the late 1980s, originally as add-in cards, later embedded on the motherboards. A super I/O chip combines interfaces for a variety of low-bandwidth devices [Wikipédia].
Architecture HUB et MCH (Memory Controller Hub)
Edit
...
BIOS des serveurs
Edit
Le BIOS et l'UEFI sont des composants logiciels ...
Mémoires des serveurs
Edit
ECC (Error Correction Coding) = ...
AECC (Advanced Error Correcting Code) =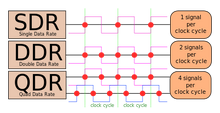 SDR
,
DDR
,
QDR
= data rate (débit de transfer de donnée envers et depuis la mémoire).
La capacité mémoire totale du serveur dépend de la carte mère ; la plupart des nouveaux serveurs peuvent supporter au moins 12 GiO de mémoire, certains peuvant aller jusqu'à 32 GiO.
Interfaces des serveurs
Edit
Graphique / Ligne de commandes
Opérations réseau des serveurs
Edit
...